Founder Deputy Manager Message @ Dr Krishna Mohan Tripathi
The Objectives of the AICCEDS shall include all the objectives,Vision & Mission: The said objectives are as under.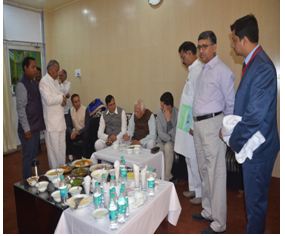 Under today's bustling environment our endeavour has been towards preparing professionals with a global perspective and localized demeanor. Energies of the youth are not only channelised unidirectionally but developed in a multidimensional fashion. In our endeavour of Human Resource Development in a specialized professional field; we believe not only in informative education but also transformative education embedded with good value system. With a highly qualified and experienced faculty and a group of professional managers as guest faculty, teaching-learning process at AICCEDS aims at developing talent through competence building. The programs aim to impart students- knowledge, skills, attitude and character of a high order to enable them to face the competitive corporate world.
Plans are imminent to start need based courses once proposed private University status comes through. With the emergence of various programs in different schools, the student and the faculty strength will also be required in phased manner. Required infrastructure for classrooms, labs, faculty space will, however, be augmented accordingly in the proposed building for running various academic programs at UG, PG and Doctoral level.
About Deputy Manager @AICCEDS & Chairman Of Dental College Azamgarh
Dr Krishna Mohan Tripathi, Chairman@ Dental College Azamgarh cum MD, S/o Late Shri Bikrama Tripathi, born at Village Jahagirganj , Distt. Abedkar Nagar on 15.08.1944. After the basic education from village, achived Graduation and Post Graduation of Master of Arts in Difence & Strategic Studies from Allahabad University. During the tenure of lectureship, his ambition to start an educational institutions had flowered and several educational Institutions were established subsequently and dedicated his life for the welfare for children, women, elderly who need care under distress.
Quickly Find What You Are Looking For